Freelance writing will make you a fool if you're not careful.
Many clients are illiterates, and you're to school them. Don't boss over them. You only have to show reasons why they need to understand how project contracts work.
A client hired me for a marketing content project in July last month. I delivered everything as required, but all he said was I wrote rubbish all through. Now, I don't claim I'm perfect. But at least, show areas I'd need to adjust. To my surprise, he insisted he doesn't have to. It was later I realized his intention to scam. He requested a refund from Escrow of which I refused. I called Escrow team's attention to it, and he dragged and dragged. I got my money from him.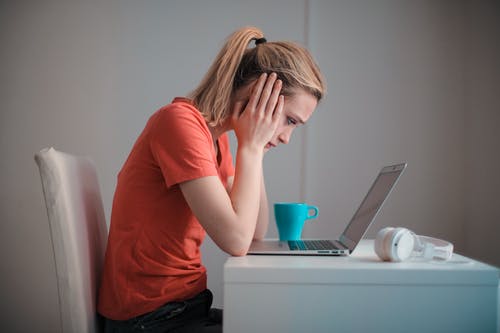 Your client will rubbish your worth only when you give them a chance and accept the impostor syndrome. For different purposes: to feel lit for bossing on you; to scam you; to offload aggression you're innocent for; or any other reason. Stand strong. You're not a horse anyone should ride.
Do these with such clients:
Avoid Emotions
You won't think straight when you get emotional. You'll become an idiot when you start nursing ego. Be as calm as possible when a client ridicules your ability. Your brain works miracles when you apply logic instead of useless reactions that'll only validate your client's backward allegations. 
You'll become furious, but emotional intelligence will help you scale through this stage. Some clients will apologize when you're calm with approaching this critical matter as much as you can. 
Acknowledge Imperfection
Your work might end up being truly poor. And that's the fact. Yet, don't give anyone a chance to ride you like a horse. Arrogance is a different thing. When you're humble with issues and at the same time maintaining your standards, you're indomitable. Don't demand this respect. Earn it by positioning yourself as an authority with successful similar projects. 
Clients are humans too, trying to be better people with your help in their projects. Clients don't hunt for who to bash. They look for solutions to specific challenges. We're both imperfect, so re-check the work you submitted. 
Refer to your Contract Agreements
In case you signed, call your client's attention to never go beyond your agreements. When your client starts crossing the line, wake him up.
Why Clients Don't Reply to your Proposals
Conclusion
Handling such clients requires calmness. You're an adult, so you'll receive inspiration on what next words to throw – only when you choose logic over emotions. 
Impostor syndrome is the feeling of inadequacy in your abilities to handle a task you've seen yourself handling. Don't give room for an impostor syndrome. Though a client may be unsatisfied with your work, don't claim you're right. Remain calm, and observe how the project could really be better. Communicate with your client like a client. You can only earn this respect when you portray authority.
Have you ever had such clients? 
Please, share your experiences below.