How do you feel when someone neglects you?
Your content is your identity—what you represent. 
Readers can ignore your content. When they do, they ignore you, and you just wasted your time writing it.
Unfortunately, that problem you're trying to solve thrives when the audience affected neglects your problem-solving content. 
The truth is: it doesn't matter; even when you're delivering to a client as a ghostwriter, your writing voice cannot wear a mask. 
As soon as your readers perceive a familiar scent from your content, they'll press the back button. See, they'd neither read nor share anything. 
Don't you get me? This internet, eh, is saturated, and everyone is tired of reading almost the same thing every time. 
Make each of your subsequent contents the best amidst equals with what I'm about to show you.
You won't only make the client beg to pay more; you'd also retain many of them for more contracts.
Why these strategies? They have built Ideaflavour thousands of daily followership on and off social media.
Your content enjoys distinction when you try these: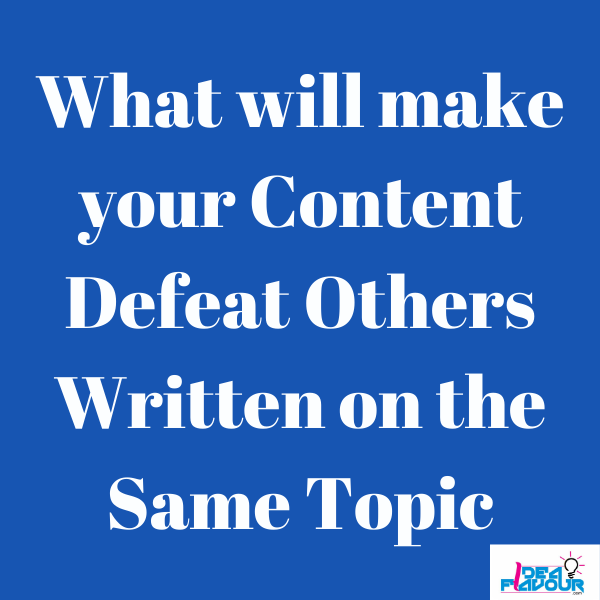 1. Invent a Uniquely Generous Headline
Look at the door where you are right now.
Done? 
Your content's headline is that doorway your readers will either turn away from or open into your content. 
Once your headline is dull, some may even quit checking out your subsequent updates. Either you or your client is responsible now. 
You cannot repeat a headline someone already used and expect to go viral. Don't repeat a title a writer already used.
We both only wasted time when our headline isn't unique and specific with a solution.
To write an irresistible headline, check Ideaflavour's analysis on it here.
2. Research, Filter, and Outline
Before you invent an irresistible headline, you already have an idea of the topic. Nothing is new. Several websites and blogs have worked on what you're about to work on.
Kindly type it on Google or Bing. Go for the best three websites on the first Search Engine Result Page (SERP) that already attended the topic. 
Compile all ideas these best three websites construe. Then, filter out the outdated ideas. You can add your ideas. Read, study, and understand them.
It can take you hours and days, but it won't break you.
Would you mind choosing how you'll write it? It could be any of the following:
a H

ow-To Guide;
a List Post;
an Ultimate Guide;
an interview;
Check-lists;
Personal Story;
Newsworthy Article;
Guest Blogging;
or even an Infographic.
After that, design the rough sketch or fundamental structure you'd want your content to look like.
Fill in those highlights you compiled into your sketch.
Outline the introduction, body, and conclusion. You've drawn a roadmap with this.
Most times, you'd need to list out all the points you'll need to analyze in the body of your rough sketch.
Note: this isn't your rough draft yet since you've not eventually started writing anything yet.
Don't be despotic with this rough sketch. 
Would you mind not forcing yourself to obey the rough sketch when upcoming inspirations decide to change things? The sketch's purpose is for orderliness.
3. Copy and Paste Everything from your Heart
Forget about any grammar rule now.
Once you've got a concise understanding of the problem you're solving, pour out every damn thing that flows through your mind. 
Avoid trying to think about what to write. You already designed a roadmap with your sketch. Just write it as it flows. Don't worry. It will flow. Just believe in this that I just told you. 
Write every single damn thing as it appears. You'll edit it later. Write as you'd talk.
That's a premium secret I've just shown you.
This technique shines out your uniqueness and peculiarity. It'll make your content stand out as the best. It has moved mountains for me.
4. Focus like a Counselor 
Has any counsellor ever counselled you?
He'd focus on you. He'd neglect every other substance around him.
His primary focus would be about devising solutions and remedies to your main problem.
You're a counsellor this time around.
See your reader as one student looking at you for a solution you're trying to give.
You're talking to one person like a counsellor, so kindly address one person.
Don't deviate. Avoid any distraction until you finish the content segment you're trying to create if your schedule does not complete the content on that day.
5. Edit and Proofread
Here's where everything starts. 
I repeat, here's where the real work starts.
You'll notice many errors, bland phrases and sentences, dull words and expressions, typos and wrong punctuations, and lots more.
Here's where polishing starts. You'll spend most of your time here because your content must be the best of all equals.
Your first sentence advertises other sentences. Make sure you hypnotize her with your powerful sentences till he finishes reading. Each sentence must create her hunger for the next.
Stay away from passive voice. Always write with the active. For instance: "Elon Musk is pleased by what I tweeted yesterday" should rather be "What I tweeted yesterday pleased Elon Musk."

Ensure none of your paragraphs is more than six lines.

Trim, trim, and trim. The fewer things are, the better they are. 

Trim dull expressions such as "There is a blog that updates contents for writers on a weekly basis." to "A blog updates contents for writers weekly."

Sprinkle power words into all your paragraphs. You breathe life into them by that.

Avoid many "-ly" adverbs.

Sprinkle imagery and metaphor into your content and make your content dance in the reader's head.

Use Grammarly premium. 
6. Identify Competitors' Loopholes 
Find errors, areas of updates, and adjustments each of these best-ranking contents (which you got in the second stage above) lack.
Fill up these loopholes.
Spice your content with helpful materials such as researched statistics and data; an icon's quote on the subject matter; charts; graphics, videos, and several other useful materials.
This won't make the content generate more social media shares but also make it the best.
7. Be a Copywriter
No online business can thrive without the influence of copywriting. 
Your content won't be delicious to gobble up when it looks like the essay your English lecturer gave you in class. 
Asides from Business proposals, Resumes/CV writing, and Academic Writings, rarely would you thrive in other niches without writing informally.
Nobody likes the stress school takes one through. 
If your content reminds readers of their exam questions and essays, they'll toss it into the bin.
But when you go persuasive and enchanting, your content won't lull them to sleep.
Bottom Line
For content to go viral, it must be unique. 
Besides, the particular purpose your content's uniqueness serve must be unique and mind-blowing.
Don't worry; you'll get better through your consistency.
If you can shine your content with the seven polishes above, your content will sky-rocket on and off social media.
Kindly do others a favour by sharing this post with the social media buttons you can see.
Do you have any other polish we can add?
Kindly comment in the box section below: