Imagine wasting 100 connects on Upwork with no response for an interview. 
Not landing a response isn't because you have no reviews.
Clients ghosting you isn't because you're new to the platform.
In one of my SEO masterclasses, I opened an Upwork account for demonstrating how to write a good proposal on Upwork (live), and it landed a $170 – in less than 5 hours of opening the new account.
You see, not landing a response from a client is not your fault. 
You probably don't get some things right. 
Now, if you have no problem with getting responses to your proposals, this post is not for you. You can only share it. I came to address the complaints today.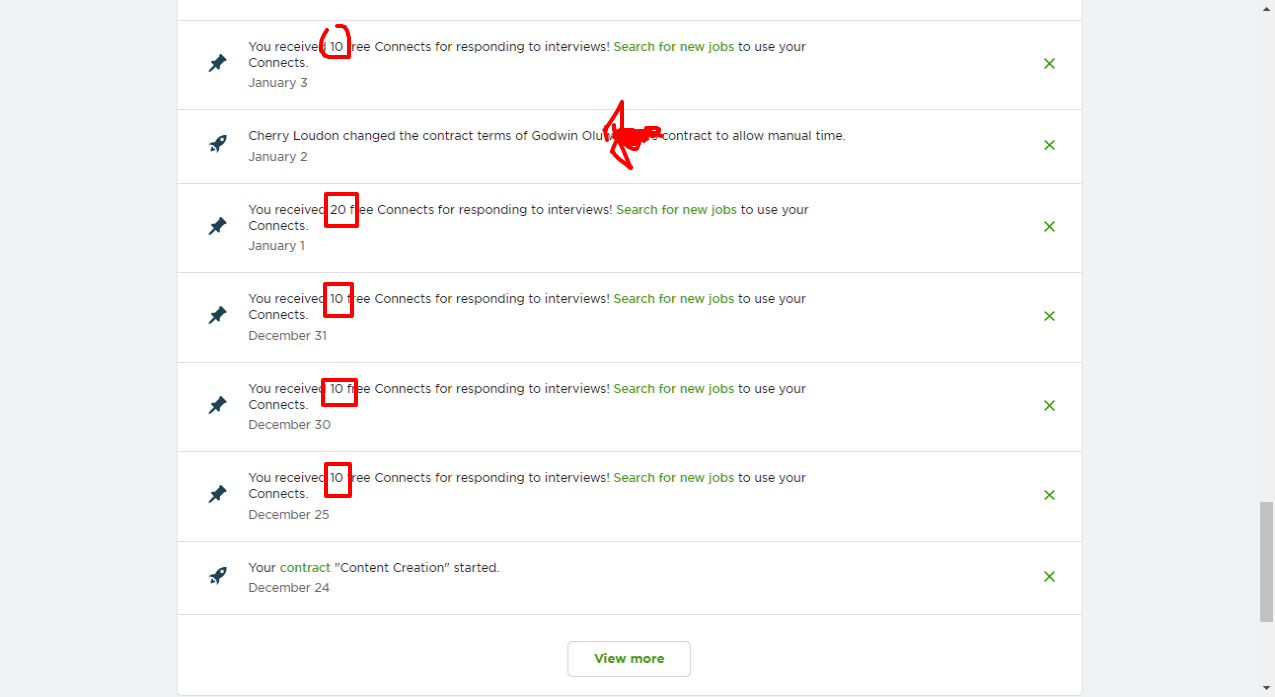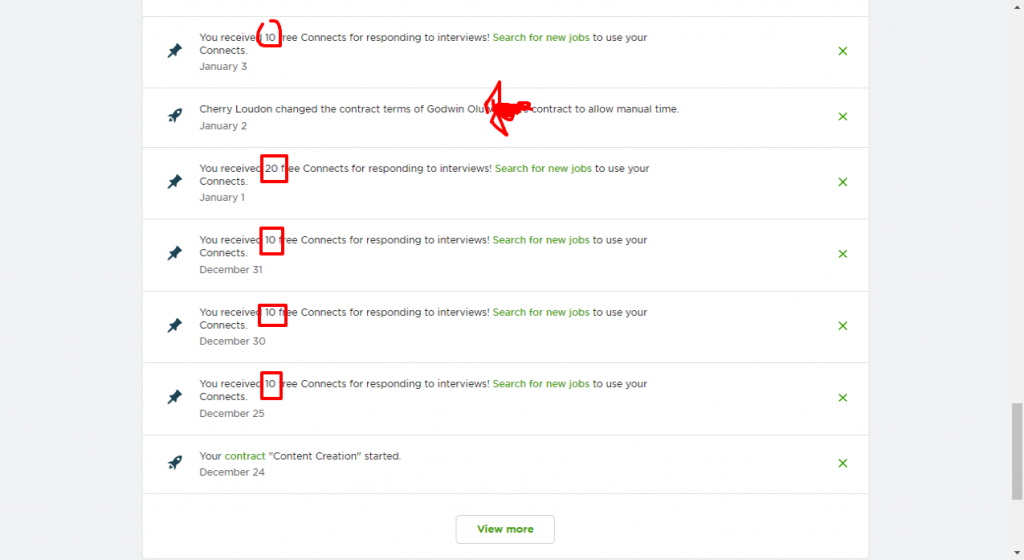 I'll be brief with the strategies. Just follow them. You won't have problems anymore. 
If you don't have a polished skill to address clients' specific challenges, my strategies may not work for you.
I'd recommend that you buy courses that'll sharpen it in specific lucrative niches such as Content SEO, Blog Post, Fiction and Non-fiction, Keyword Research, Editing and Proofreading, and the likes. 
Instead of wasting connects, enroll for skill-polishing courses, such as the one I released in December 2020 – in the image below.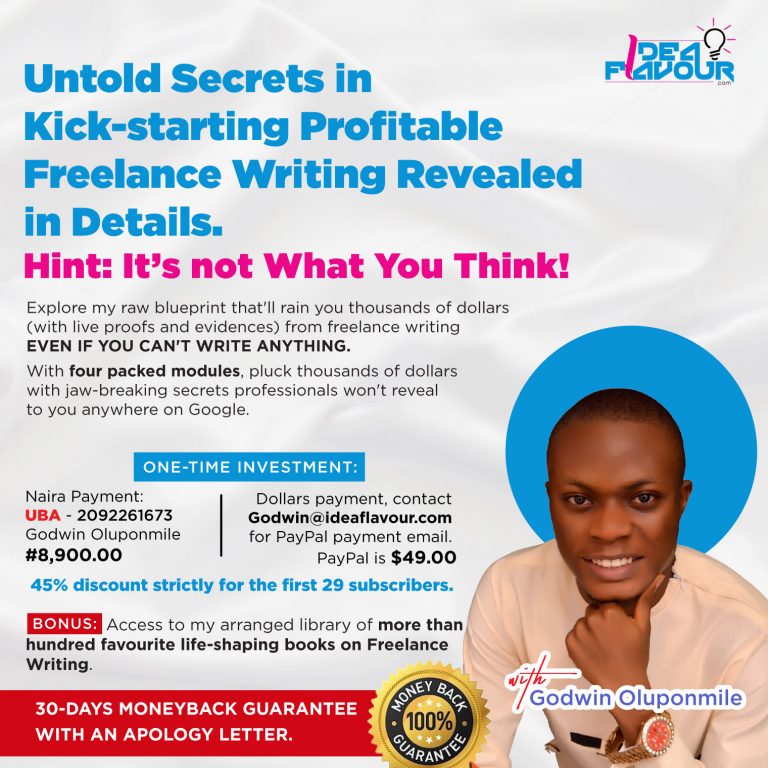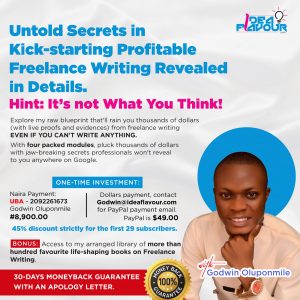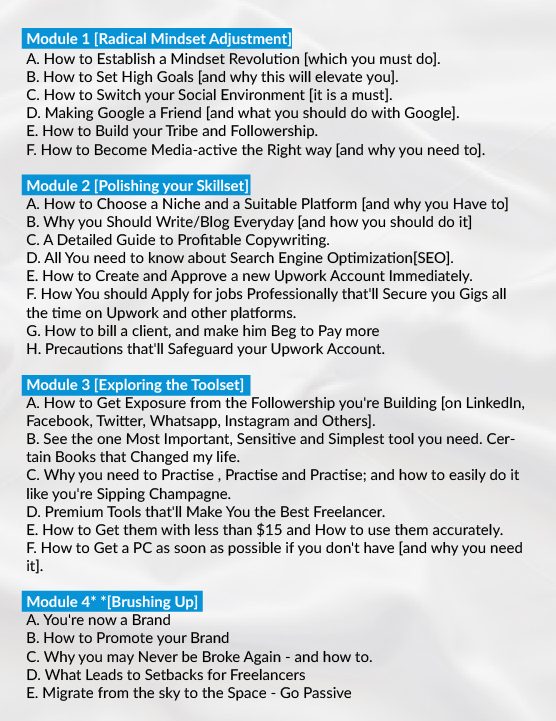 Clients didn't reply to you simply because you didn't meet their expectations. 
And today, I'll expose how you can beat those expectations if you're confident you know your onions already. 
1. Read and Understand the Entirety of the Job Description 
Clients are only after the solution to their problem. Not after paying you, even though they're aware they will.
Things become easier when you're addicted to that mindset. 
Their problem is written all over their descriptions. 
When you don't understand how to handle his problem in the job description, don't apply. He just wouldn't reply. 
Your first paragraph must glue down his attention to irresistible amazement. 
For instance, check one of six different responses I got in a single day when I decided to renew clients for 2021. Here's a response from one of the clients: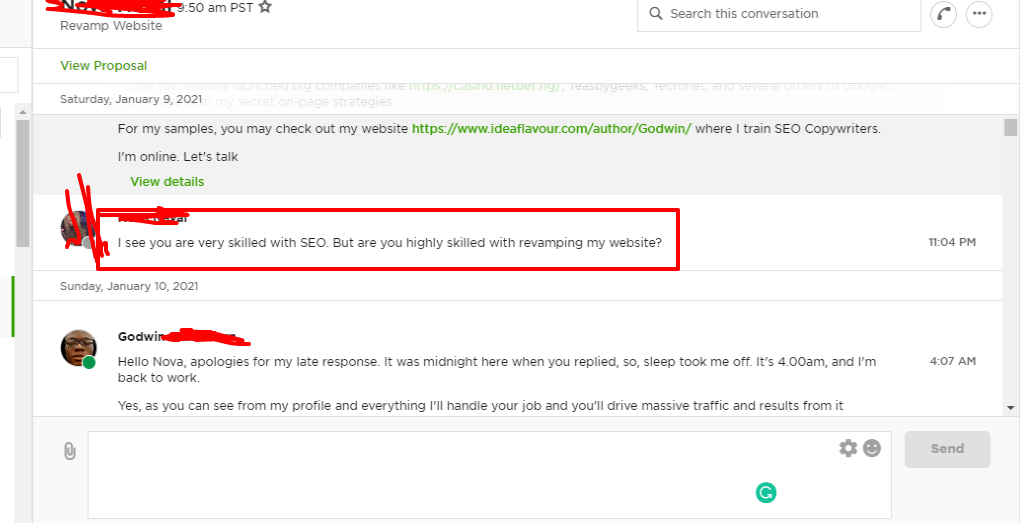 Below was my proposal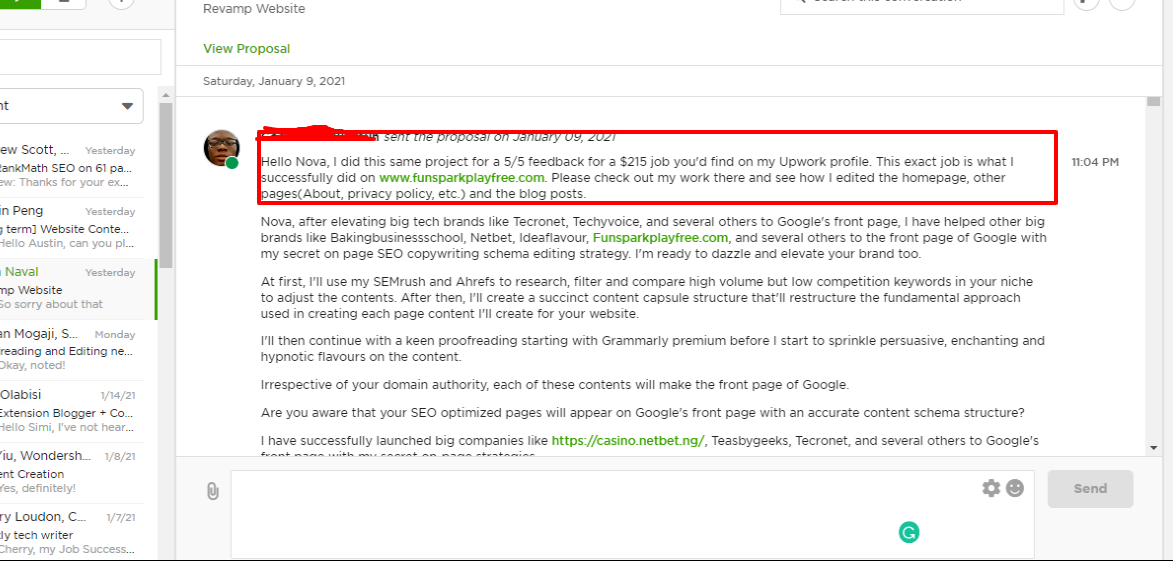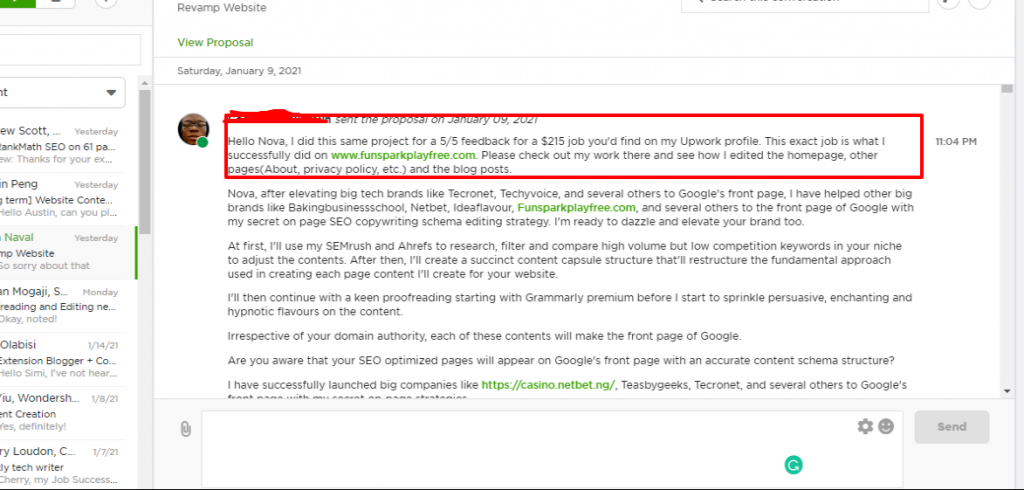 Below was the job description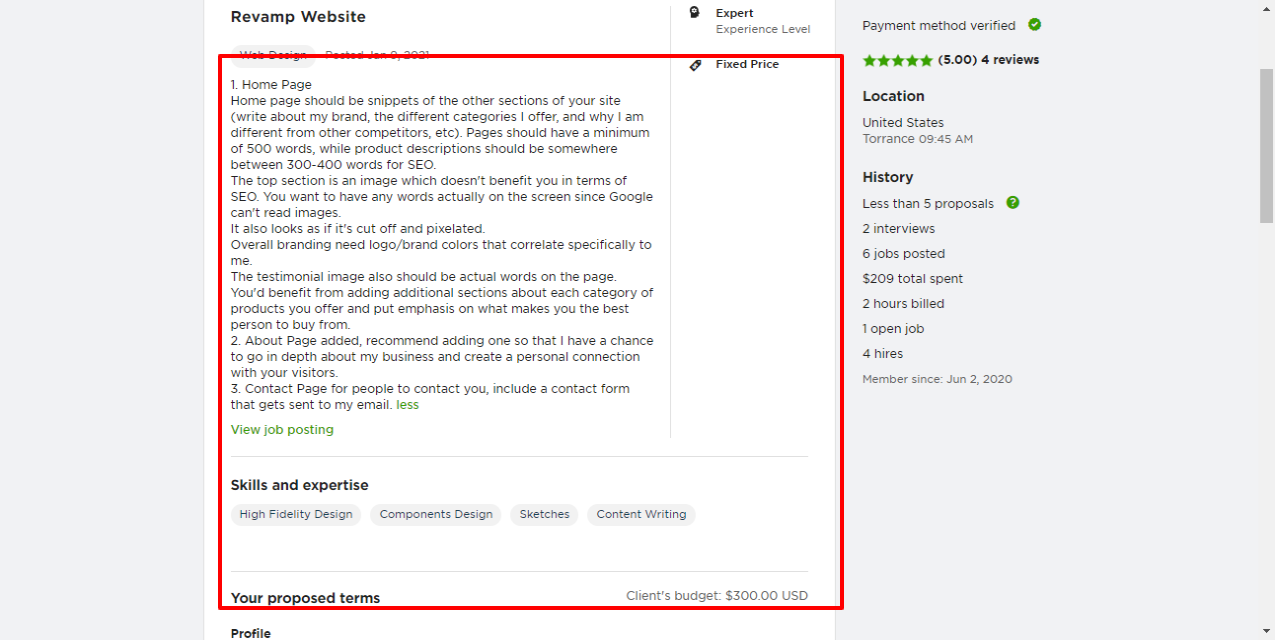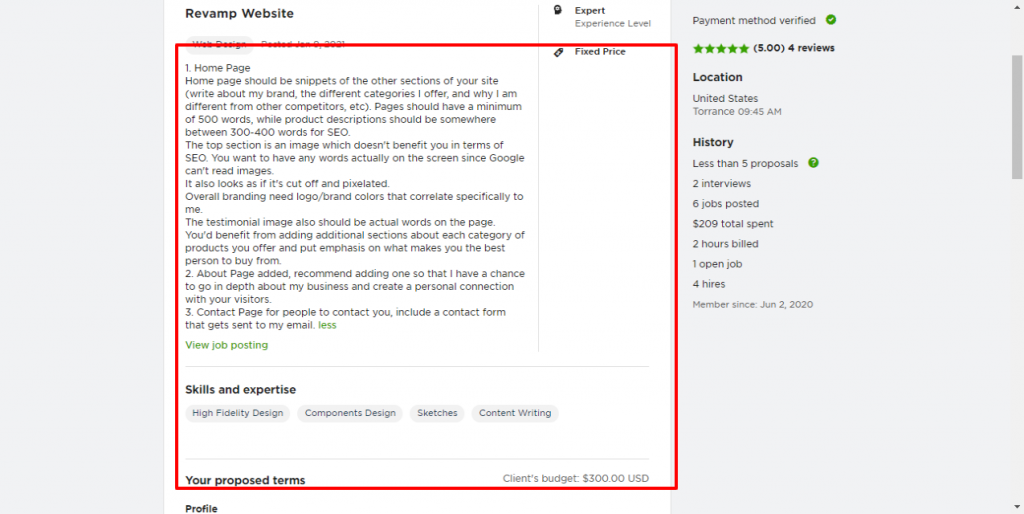 Don't rely on templates.
See, the dumbest client knows when a proposal is copied. I run a client account on Upwork, and I understand how disgusting it feels to waste time going through a copied template. Cover Letters come last on clients dashboard. The FAQs come first. 
If you check my first paragraph in the proposal I sent her, you'd notice I tackled the #1 major problem the job description conceives. Kindly recheck her job description above.
Don't rush to be amidst the first five proposals. But endeavor to be amidst the first ten to submit proposals.
Most times, you wouldn't be amidst the first five because you'd need to write proposals from scratch to meet the expectations the job description uniquely reflects – as the client's solution proposal.
So when you don't understand the job description, don't apply for the job.
2. Highlight your Relative Successes
You boost credibility and trust when you mention relative successes, as you can see in my first and second paragraphs of the proposal. 
Clients want the best freelancer for their problems. They're neither looking for old nor new freelancers. They need just you if you can handle their challenge.
Demonstrating your experience proves you're the required expert perfect to handle the project – provided you understand the nooks and crannies of the job description. If you're truly competent, why wouldn't you understand that.
Many times, it looks spammy when your success mentions don't tally with the client's niche. 
Besides, you become fake when you try to prove with irrelevant success. For instance, your client wants a daily press release, but all you try proving is how you designed an elegant website for a client who became a millionaire through it. 
Avoid success highlights when none of your achievements tallies with the solution to her job description.
3. Attach a Relative Sample
Your chances of getting a response is 42% without having relative samples.
Even when a client forgets to ask about it, you need it. If you have no relevant sample, quickly build one in less than 25 minutes.
How to Create Sample When you don't have – in less than 25 minutes
Samples are the easiest to craft. 
Check Google for similar solutions to the job description.

Understand the solution, then quickly draft your unique version of what you saw in Google. It should be unique from you to prove your expertise. 

Let it be a replica of what she exactly wants as a solution to the job description, but not entirely like it.

Attach the sample as Word doc. 
PS: This strategy works well for content writing marketers majorly – those are who this website is specifically meant for.
4. Summarize how you'd Approach His Contract
You can only do this when you know your onions. Don't lie.
Break down how you'll handle the project in a brief analysis, so she'll understand you know what you're saying.
This would increase your chance – if only you have enough skillset and toolset to do it. 
You can't tell us you're a serious business writer without Grammarly premium, Copyscape, the essential research tools, and the likes.
You can't tell everyone you're a serious business writer without understanding the fundamentals of storytelling, SEO, and Persuasive Writing.
In essence, this stage will demonstrate how you're truly capable of handling the work. 
When you're competent, it'll reflect in your brief breakdown analysis.
If you've taken any of my masterclasses different from the Untold Freelance Writing Secrets masterclass I displayed the banner above, know you took a course for non-beginner writers. 
To polish your skillset, if you think your skillset isn't well polished enough, the Untold Freelance Writing Secrets Masterclass will sort that out. It's essentially for beginners. Kindly check the curriculum and the banner below: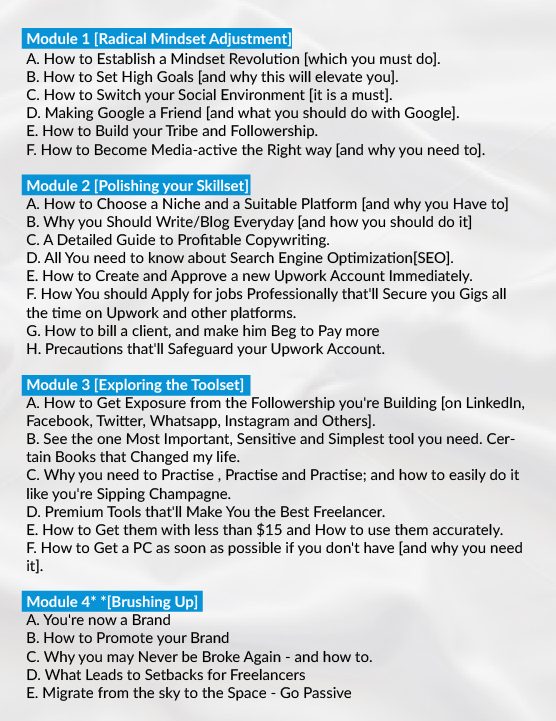 5. Empathize with the significant Hunger in the Job Description
"Hello James, your job description reminds me of how I struggled with ranking a competitive long-tail keyphrase. And to be honest, I understand how hard it feels. I'm ready to replicate the same technique (SEO schema capsule) which I discovered that radiated the target keyphrase to Google's front page till tomorrow.
If you check the testimonial in my profile, you'd notice how another client testified to the same…"
It depends on the weight of the problem the job description has. 
A secret about freelance writing is – the more you build your portfolio, the easier it gets.
When your empathetic words focus on dazzling out extra-value remedies your clients aspire, you'll subconsciously win her trust.
6. Be Personal and Jovial with words
You enjoy a bonus when the client drops her name.
If she forgot to drop her name on the description, check out the review section if you're using a browser – and not Upwork application/software.
If you still can't find the name, no problem. You become jovial when you add some compliments that empathize a solution to the problem in question.
7. Understand the requirements
When you're patient with reading the job description thoroughly, you'd notice the major instructions.
A common requirement is when clients require a key phrase to filter out bot applications or copy and paste template freelancers who rush for the first five submissions.
Strive to attain a minimum of 90% Job Success Score. Obedience to location requirement varies. The job description will signal to you if you can apply for the job even if your location is against the client's location requirements.
Check the job area and vet if any "hires" or "interviewing" has been done to know what's up with the job.
Bottom Line
Clients won't only respond to your proposal, they'll also hire you if you're truly competent. You can't follow these strategies successfully if you're not competent to handle the project in question.
You can take affordable classes that'll cover these areas of skillsets. The tutors for this class would be ready to guide you on mistakes to avoid with the skills.
Clients don't reply to you because you didn't fuel their trust for you.
After trying these to no result, reach out to me through my e-mail. I'll be happy to go through what you wrote as the proposal and point out corrections. If you took any of my classes with no result, please reach out to us for refund.
If you learned something today, please hit the share button to help other freelancers.