"What I ordered vs. what I got"
"How come it doesn't fit? It looked better on the mannequin"
If you are conversant with the online marketplace, these statements won't be new to you.  
One of the biggest challenges with online shopping is customers' restriction to touching, feeling, or even to an extent, seeing the products they're purchasing as compared to shopping in a brick-and-mortar environment.
Would you make better purchase decisions and even shop more if you could virtually try out a cloth, see if a lipstick matches your face tone, try out a shoe, place a couch in your living room to see how well it matches your curtain and how perfectly it fits into your space?
The good news is that all these and more are now made possible with augmented reality.
Augmented reality is bridging the gap between the online marketplace and the brick-and-mortar. Enabling shoppers to interact with products just as they would in the physical stores.
What Is Augmented Reality?
Augmented reality (AR) modifies a real-life environment by adding sound, visual elements, or other sensory stimuli.
Forget all the vocabulary above; AR is simpler than you think.
If you've ever used Snapchat or Instagram stories, you understand that AR is perfect. In a Snapchat context, your face is the real-life object that is being modified. You can't touch or feel the filters, yet they modify your face. This is exactly what AR does. It allows shoppers to virtually try on products and preview placement right from the comfort of their homes. 
Contrary to what most people think, AR is not one of the new kids on the block; it's not modern technology; the first AR technology was developed in 1968 at Harvard by a computer scientist, Ivan Sutherland.
You stand to gain many benefits if you integrate AR into your retail. 
Some Augmented Reality in Ecommerce Statistics
How Can You Use Augmented Reality in Your Ecommerce Business?
From the statistics above, it is clear that AR is not a fail-proof technology and is taking over the eCommerce marketplace. Below are various ways to use AR to improve your customers' shopping experience.
Virtual try-on solutions
Virtual try-on solutions will help to reduce to an extent the cases of  "What I ordered vs. what I got". It allows your customers to try on products before they make purchases virtually. Which will also reduce your return rate. 
Do you know that at least 30% of all products ordered online are returned, as compared to 8.89% in brick-and-mortar stores?
One can tell that the difference in the rates is because, unlike in the physical stores, customers cannot touch, touch, and try on products.
 Google found that 6 in 10 people "want to be able to visualize where and how a product could fit in their lives".
The biggest factor that interferes with customers' purchase decisions is the fear of not getting what they ordered. 
Virtual try-on solutions will provide more information than a 2D image would ever provide and reduce your return rate. Nike launched its first virtual sneaker try-on in 2021, which allows shoppers to virtually try on sneakers in three different colours. Aside from the colours, the customers can also get their perfect size. This will help customers make perfect purchase decisions and reduce the return rate.
With a virtual try-on solution, shopping is fun!
Preview placement
AR enables customers to view and place products in their spaces before purchasing.  
"Will the flower vase fit on the table?", "What will the couch look like in my living room?" 
Customers usually have concerns about whether an item will fit well into their spaces; luckily, with preview placement, the questions above can be satisfactorily answered.
Preview placement provides a shopping experience that even physical stores don't provide. Because even in brick-and-mortar, customers are not allowed to go away with products just to see how it looks in their environment.
Brands like IKEA have integrated AR, and customers can now virtually place furniture from sofas and lamps to rugs and tables in their spaces and see how it fits before purchasing. 
With preview placement, shopping has been made easy. 
Using social media filters.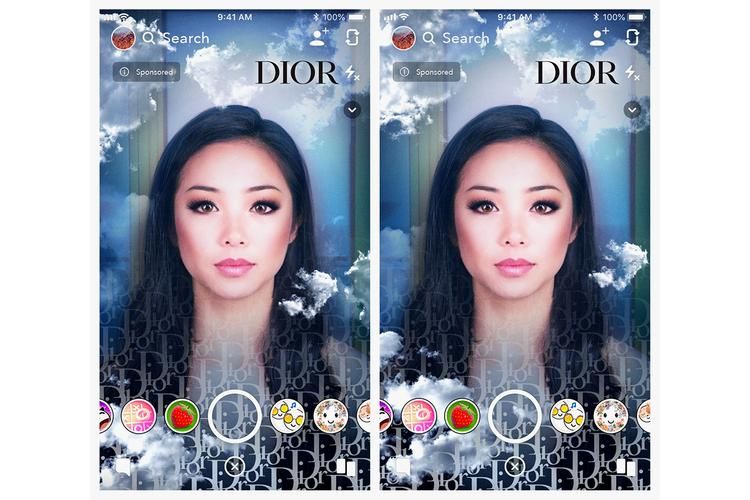 If you are a regular user of Snapchat, there are chances that you've used a branded filter at one point or the other. Brands like Starbucks, Target, and Mcdonald's now use Snapchat's branded filters.
Aside from the fun part, this is also a way to create brand awareness and promote new products.
Benefits of Augmented Reality in eCommerce.
Customers will spend longer time shopping.
AR brings life into products. It's interesting how customers can virtually wear a Rolex wristwatch, try on clothes, glasses, and shoes and even place products in their environment to see how it looks. Customers tend to spend more time shopping on sites that integrate AR. Shopping becomes fun, and even if the customer doesn't buy on the first visit, you can be sure they'll return. 
Higher organic traffic. 
The use of AR will lead to more organic traffic. AR is the talk of the town; it's only normal that people will want to try out what everyone's talking about.
8 Practical Ways To Make Quick Money Online As A Writer
Increase in conversion rate. 
AR provides much more information than a 2D picture, bridging the gap between physical and online stores. This information helps customers make better purchase decisions. 
When the fear of not getting what is ordered is eliminated, there will be an increase in the conversion rate.
Reduction in rate of return. 
With AR, customers are less likely to receive a product and be disappointed. This will reduce the rate of return. 
Final words.
Augmented reality is not a technology that is too technical to handle. Customers can enjoy AR with the simplest gadget. With over 810 million active mobile users, AR can only progress. 
Augmented reality has been around since 1968, it's not going anywhere, and you don't want to be left behind.  Hop on board now.
What's more? It's a win-win situation for both customers and sellers. Your customers enjoy a better shopping experience while you make more money.
Will augmented reality be the new reality of your eCommerce marketplace?