When last did you buy a service for your business? 
When many think of eCommerce, business-to-consumer pops up first. Netflix, Shopify, and other b2c whales did a pretty job, but do we ever pause to notice how b2b eCommerce is nourished in gold? 
As we speak, b2b eCommerce is expected to expand at a compound annual growth rate (CAGR) of 18.7% compared to b2c (7.6%).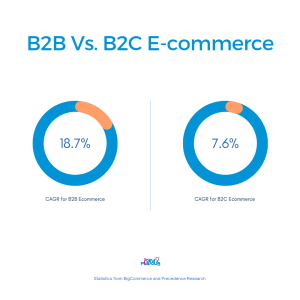 Amazon was smart. They quietly added a business-to-business approach in 2012.
If you'd like to explore top b2b eCommerce companies to know how they've thrived, this guide dissects how far they've gone and how they did it. 
We explored four distinct features paramount to most b2b companies in eCommerce, examples of their websites, and three top performing brands in the b2b space. 
How the Right b2b eCommerce Business Model Looks
From our discovery, any of these three have repeatedly proven suitable for intending business-to-business (b2b) eCommerce startups to model: 

B2B2C: This stands for business-to-business to customers. In this model, manufacturers partner with third parties, like affiliates or e-retailers, to rebrand and sell their products on a website or eCommerce platform. 
Wholesale B2B: This is where a manufacturer sells to another company in bulk, often at a discounted price.
B2B2B: This is one of the emerging business models of b2b eCommerce. A b2b2b transaction occurs when a business assesses another company's network to conduct a b2c transaction. For instance, two companies, A1 and A2, and A1 decide to access the network of A2 to transact with them. 
You need to adopt functionalities and state-of-the-art technologies into internal and external business processes to foster profitable business partnerships. 
What product or service are you offering? Which audience or sector are you targeting?
How does your product/service provide value to your audience?
Each feature added to your platform is extremely valuable to the end users. The right model generally starts with the following: 
| | | |
| --- | --- | --- |
| S/N | Component  | Description  |
| 1. | Goals | Develop a S.M.A.R.T. goal for your business  |
| 2. | Audience  | In-depth analysis of the market (demographics, psychographics, and geography) and your competition |
| 3. | Value Proposition | What your company does well, unique assets, resources, and qualities  |
| 4. | Sales channels   | Find out how and where your customers spend their time online |
| 5. | Inventory management  | Develop effective inventory management solutions to cater to big-ticket customers  |
| 6. | Tech infrastructure | Outline the software and other functionalities to facilitate business-to-business interactions  |
| 7. | Transportation and Logistics | Partner with third-party logistics or adopt other automated logistics systems to fast-track delivery processes  |
| 8. | Customer relations | Develop and implement customer loyalty programs to retain existing customers |
Features of B2B eCommerce
Here, we will analyze four vital features of b2c platforms that business owners should look out for: 
Top-notch Branding
Excellent branding is fundamental. It elaborates the values a n eCommerce brand represents, and what to expect after making a purchase.
Branding retains customer loyalty and inspire referrals. Your website should be intuitive and garnished with eye-catchy and relaxing visuals.
Provide different forms of content – from tutorials to how-to guides to webinars – to educate your customers and proffer fast solutions to their problems. 
Personalized Catalogs
B2b eCommerce contracts often include extensive SKUs unique to each customer. To facilitate business-to-business relationships, merchants should provide personalized catalogs with custom pricing offers to meet the needs of consumers and drive sales.
Personalized catalogs can be tailored to different industries or accounts within the same industry. For instance, a b2b eCommerce store selling office materials can advertise ergonomic chairs to office managers and stationeries to secretaries in the same organization. 
Multiple Pricing and Bulk Orders
Unlike b2c, b2b customers love to make bulk orders. The UI/UX of a typical eCommerce websites is seamless for customers to place orders and provide flexible pricing for goods purchased, availability status, and delivery estimates.
The checkout process should be streamlined to enable customers to add products to their cart and finalize their orders. 
Customer Relationship Management (CRM)
Salesforce, a popular CRM system, helps sales teams to manage customer relationships effectively, streamline order fulfilment and sales processes and provide tools for lead management, sales forecasting, and pipeline management.
It also allows the integration of third-party tools to enable holistic customer management right from first contact to after-sales support. 
B2b eCommerce Company Websites Examples and Their Characteristics
Alibaba – Inclusive Marketing 
The global Chinese leading eCommerce platform is nearly four decades young and is currently housing over 18 million buyers and sellers across 240 countries.
Alibaba focuses on improving customer experience by facilitating partnerships between buyers and sellers, especially small business owners. 
Jack Ma, co-founder of Alibaba, shares in an interview with CNBC the major differential factor between Alibaba and other b2b eCommerce platforms:
Our philosophy is that we want to be an ecosystem. Our philosophy is to empower others to sell, empower others to service, making sure the other people are more powerful than us. With our technology, our innovation, our partners – 10 million small business sellers – they can compete with Microsoft and IBM."
Berlin Packaging – Responsive Website Design 
The success of any b2b eCommerce website largely depends on the website and its design. A good b2b eCommerce website should have a well-thought-out UI/UX interface.
Berlin Packaging did this to attract businesses from the US and other countries, positioning them as one of the leaders in their industry. 
Choosing a modern tech stack is crucial for successful eCommerce in today's market. The customer journey starts on the front end. So if it's slow, your performance and conversion rates will suffer. Supercharging the customer experience using composable technology for the website can become crucial to your success." – Viktoria Gusyeva, Vue Storefront.
Amy Mayers MD – Explicit Product Description 
Amy Mayers is a supplement and skincare brand founded by Dr. Amy Mayers, an author and functional medicine physician. The brand was listed twice as one of the 5000 fastest-rising American companies by Inc. 
Amy Mayers MD operates as a B2C and B2B model. The b2b arm offers a wholesaler and affiliate program with clear pricing plans.
Each product has a concise description, including other customers' features, medical benefits, and FAQs. In addition, Dr. Mayers, MD, has several educational guides to aid buyers through their purchase journey. 
Best b2b eCommerce Websites
We'll explore three best b2b eCommerce websites recommended by successful b2b brands: 
Shopify Plus 
Shopify Plus is the enterprise version of the popular Shopify we all know. The platform is modelled to help eCommerce business owners scale businesses through a flexible, user-friendly, cost-effective platform to reach more customers.
It provides various customization options for B2B sellers, including unique checkout flows for each customer.  Shopify Plus is a successful b2b eCommerce website for several reasons: 
It provides seamless integration with other software apps. This makes it easy for business owners to manage all aspects of their business in one place. 

The user interface is intuitive and user-friendly.

The platform is designed to handle high-volume traffic, perfect for large-scale enterprises with increasing demands. 

Custom pricing options for buyers or accounts 
Adobe Commerce 
Formerly Magento, the cloud-based eCommerce platform offers enterprise-level features like artificial intelligence and multi-channel commerce to businesses at all levels.
What's best about this platform is that it uses advanced technology to track consumer purchase habits and make product recommendations to boost sales. 
One of the features that spiked my interest is the intuitive customer portal. The platform is designed to help customers manage their company accounts, assign roles and permissions, track orders, and perform other management tasks.
Other friendly features of a b2b eCommerce website include:
Integration of different business systems, including off-the-shelf extensions 

Seller-assisted shopping to ease customer buyers' experience 

Access to customer-specific catalogs and pricing and targeted content 

Advanced analytics and reporting tools to help b2b business owners gain insights into customer behavior 
Amazon Business
Amazon is the largest online marketplace in the US, catering to over 213 million global users.
Amazon business, an arm of Amazon, is geared to help business owners reach b2b customers, although it's not free. For $40/month, b2b eCommerce business owners have access to the following: 
Consolidated shipping options: Amazon is famous for its fast delivery times, ensuring business owners receive their orders on time 

Competitive Pricing: Amazon Business offers competitive pricing and discounts on bulk orders, which can help businesses save money on their purchases.

Streamlined Procurement: Amazon Business offers features like purchasing workflows, approval processes, and integration with procurement systems, making the procurement process more efficient and streamlined.

Convenient Ordering: With Amazon Business, businesses can order products 24/7 and deliver them to their doorstep, saving time and effort.

Analytics and Reporting: Amazon Business provides analytics and reporting tools to help businesses track their spending, identify cost-saving opportunities, and optimize their procurement process.
B2B eCommerce Best Practices
To keep up with the incessant changing algorithms and consumer needs, follow these best practices: 
Use predictive analysis to generate real-time customer data that informs sales decisions 

Leverage social media to reach more businesses and increase brand visibility 

Optimize your customer catalogue to make it easier for visitors to find what they're searching for 

Opt for a cloud-based web host for your eCommerce website to avoid latency issues 

Streamline the checkout process by offering diverse payment options for businesses outside your location, enabling split shipping, payments, etc

Facilitate custom pricing strategies by allowing merchants to make orders based on their specific needs 

Enable seamless reordering and replenishing process 

Invest in creating quality content optimized for the distribution channels you choose
Conclusion
It's a wrap! 
Integrating eCommerce into your b2b strategy might seem herculean. You may feel a bit scared to jumpstart, especially by the imposter syndrome caused by these b2b eCommerce companies: their success stories, and how they have attracted and retained big-ticket clients. 
But the green side is there exists an opportunity for everyone on the space. All you need is to make a step – now.