I'll be honest with you. Getting your works read in this world full of noise is difficult.
How you title your content will tell if people will read it. Your content's headline reflects its quality. We often neglect to invest quality time in headlines. You can sacrifice weeks in creating your content. You can pull thousands of dollars on paid ads. If the headline isn't attractive enough, your target readers won't read it.
I once tried four rare catchy headlining strategies on Nairaland Forum's comment section, and it converted about one thousand leads in less than an hour.
Here are they:
How to Professionally Write a Catchy Headline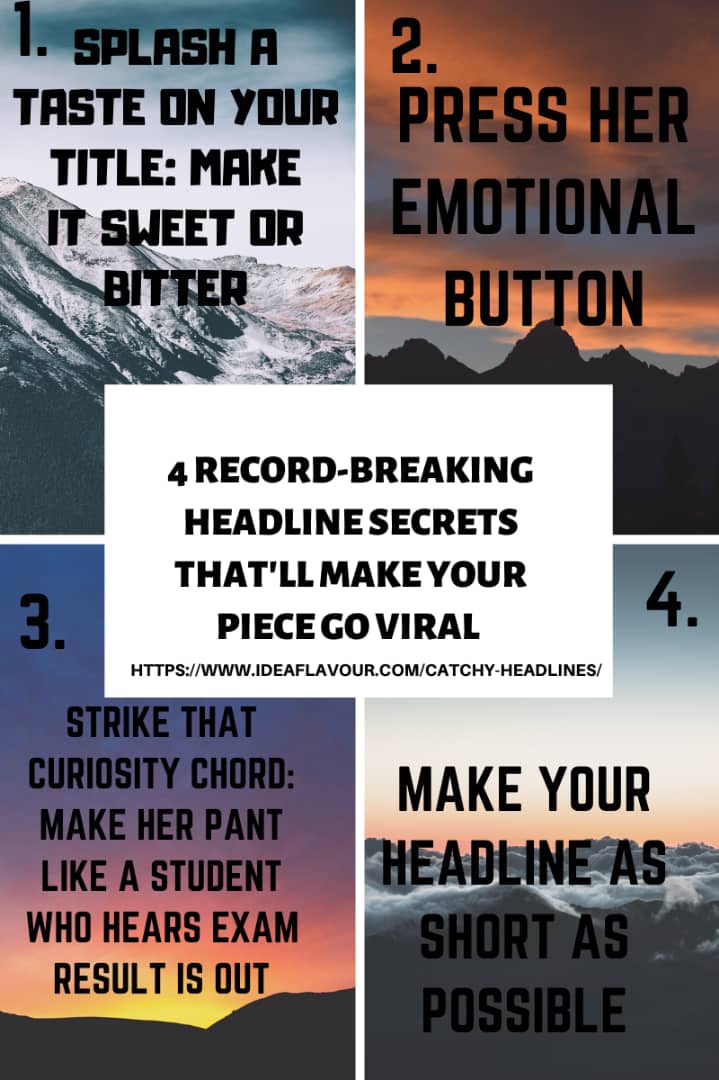 Splash a Taste on Your Title: Make it Sweet or Bitter
Scientists found that the human brain doesn't easily detach its concentration from a taste. Appeal to the tongue of your readers with tasty words in the title. For example, 'Honey' and 'Aloe vera' are two different taste words.
Your post becomes irresistible when you appeal to the sense of taste with your headline. It's like a trap that entangles your reader. This time, you don't work on her consciousness but on her subconscious.
Have you ever caught a glimpse of a headline, locked your phone, and again rushed back to open the phone?
As a Travel writer, you decide to address some challenges Nigerians face, "5 Sour Experiences with Boarding Kèkę Márúwá" will engage massive traffic.
Your reader remembers how bad he felt when he last tasted a sour stew.
Press Her Emotional Button
Imagine driving your reader to tears with just your topic. Topics like:
How I Finished With a First Class with No Sponsor
I Lost My Two Hands Two Days Before a Guitar Performance, but this Happened.
You can always make your headline emotionally inclined. Spend hours tweaking your headline repeatedly until it catches the depth of the soul.
Everyone operates on an emotional level. You can influence emotion with a catchy headline. Have you ever wondered why people gather to view an accident scene even when they have nothing helpful for the casualties?
I once saw a terrible accident where over 80 people converged to poke their noses while watching them die. They kept clanging their dirty teeth with no assistance. Like that, they'll also want to poke their noses to see what's going on in the details introduced by your emotional headline.
Strike That Curiosity Chord: Make Her Pant Like a Student Who Hears Exam Result is Out
Years ago, I knew how I felt when I received the call that UTME results were out. This was my third attempted exam. When your reader senses radical information about what bothers her, she won't think twice about storming your content and sharing it with her colleagues on the media platforms.
Understand well what matters most to your readers. You'll strike curiosity when you're obsessed with what matters to them, what takes their bigger fraction in a 24-hour day, what they crave!
If you write fiction, a creative headline that'll drive you entertainment-craving readers looks like this:
"He Almost Raped His Dad. See What Actually Happened".
This instance will make a fan of fiction rush to read a piece titled such.
How to Start a Music Blog on WordPress
Shorten your Catchy Headline
Your headline becomes more powerful when it's concise. You can always shorten it effectively when you spend more time on it.
Conclusion
When your title is not catchy enough, it already appeared elsewhere, before, OR it makes no relevance. Use numbers to show solid takeaways. Employ emotional objectives to appeal to your reader's challenge.
Have you ever spent much time editing a headline to make it catchy? Comment below.